Hello lovelies <3,
We were nominated once again for the Sunshine Blogger Award and, seeing how loyal and incapable to refuse awards we are, here's our Sunshine Blogger Award #2. Big thanks to Teens and Tweens Book Club for nominating us for this award, it's a great pleasure for us to have you as one of our followers and we hope you'll hang around as we continue to grow and share our thoughts on countless of books to be read.. or already read.
Since my girlfriend did the previous Sunshine Blogger Award, I will take this opportunity to answer through the questions!
"The whole idea of the Sunshine Award is that you nominate eleven bloggers who put a little sunshine in your day, who are positive, creative, and inspiring."
Rules:
– Answer the 11 questions from the blogger who nominated you.
– Nominate some bloggers who put a sunshine in your day
– Write 11 questions for them to answer.
Teens and tweens bookclub's questions:
Why did you start being a blogger?
I've never contemplated the idea of blogging before. I've attempted a youtube channel where I'd post video game sessions and speak over the gameplay just to fool around. It turned out to be a hobby for shits and giggles and it just quickly died as I graduated high school. It's only when I encouraged my girlfriend to start sharing her thoughts on the billions of books she's read that she got me to join her ranks and do the same for my rekindled love for books and my new found love for comics. Only then did I see the wonders and the amazing feeling of writing a review, sharing my thoughts and getting feedback on what I've wrote and shared. It sends a cool chill down my spine knowing that people enjoy what I put up and take the time to share their own thoughts as well. I appreciate it a lot guys ! 😉
What is your favorite season?
Clearly summer is my favorite season just cause it's the only season that has the ideal weather for basket-ball. It's also perfect for travelling and enjoying a nice sun and, sometimes, a good kind breeze. Although, I still appreciate every weather for all the things they bring to my doorsteps. Yes to having a rainy day only to stay home and enjoy the comfort of your room ! 😀
Coffee or tea?
This isn't easy since I like my parent's milk coffee as well as a well-sugared black tea. I'm just going to say the milk coffee is better cause it has milk. Milk is gold. Milk is life. Milk forever.
What is your favorite book?
This question is probably the most hated one by any reader as it makes us pick a book among others. Nothing more impossible for a parent to pick a child they prefer over another, right? Although, I'm going to go with The Gods of Gotham by Lindsay Faye. This novel was Christmas gift by my girlfriend and is the novel that got me back into the literary world. It rekindled a slowly dying flame for fiction and got me back on tracks. Without this book, I would've probably never touched a novel in a pretty long time. Thank you so much, Bébé. Other than the huge emotional and important significance that that book holds, as well as the amazing story it had in store for me, I'd say One Flew Over The Cuckoo's Nest, Nineteen Eighty-Four and The Godfather are among my favorite novels ever. To this date anyways. I have so many novels to read…
What is your favorite food?
As you've might have already heard from The Liebster Award post, my parents spaghetti is the best food ever. I couldn't go a week without it. It's just that good man.
What are you afraid of?
Alright, I definitely don't mind repeating this one. Motherf**king spiders. Do not let one of those crawl down from wherever to me. If it's on the ground or the wall, you're sure to get a "Hulk Smash!" or a "It's Cloberrin' Time!" from me. Watch out, my lil'basterds. I got my eyez on you.
What makes you super happy?
My girlfriend. The sight of her will inevitably carve the smallest smile on my face. She's definitely the best thing that has ever happened to me. Did I ever mention that I'd wish I had married her way back when we first met? 😀
Early bird or night owl?
Definitely a night owl. It's my first steps to becoming Batman, duh. No seriously, I prefer sleeping in and late than the other way around. My mind has so much to offer late at night, you have no idea.
Describe yourself using four words.
Competitive. Perseverant. Meticulous. Silly.
What is your favorite animal?
White Bengal Tigers. Since a young age, I've always been fascinated by this animal. I currently own a cat and, in my books, if one can own a cat, one can also tame a tiger. I hope someday I'll be able to have a pet tiger. Man… that would be awesome.
If you got a tattoo what would it be?
I think I'd probably go for a half-Batman, half-Joker tattoo just to show my belief that society will always have good and evil reign in it. That one can't exist without the other. Crime will always be present, it's gravity and form will probably change and vary as we seek perfection, but will never fade and disappear. And as crime lives, justice will always be there to reinforce the law and assure peace. This cycle is something I'd love to have as a tattoo, especially as a Batman/Joker tattoo. Only few people might even understand what the tattoo would signify, but that's okay. It's for me after all, right?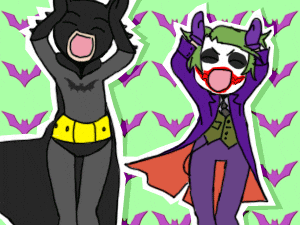 Our questions:
If you could write a novel and it could be published worldwide, what would you write about?
If writing was banned, what would you do to replace your love for blogging?
If you could be an actor in a movie, who would it be?
If you could make a sequel to a completed novel, what would it be?
You are given the opportunity to burn one book from our existence and our memory. What would it be?
What superpower would you love to have and what would you do with it?
Your blog is suddenly a world-wide hit and every author in the world and also the ones that passed away would love to be a guest on it. Who would be the first author you'd feature?
What would you do with a million dollars (I have no clue how much that would be in your currency, but hopefully you catch my drift.)?
You are given the choice of being able to speak or being able to write, which would you pick and why?
If you could marry one fictional character (movies, shows, novels or comics) who would it be?
Do you love Bookidote? 😀
As for our nominees, just so that we don't start spamming people constantly by tagging them so often, we're going to nominate some new friends who we'd like to know more about. So… TAG, YOU'RE IT:
As always, you don't have to do these awards. As long as you accept the award in your hearts, we're very, very fine with that. Thank you all so much for taking the time to check our blog out, for pressing on that like button, for leaving even the smallest comment showing your appreciation and for putting up amazing content too ! We really love getting to know you guys and building this little internet relationship with everyone. Blogging and reviewing has never been this much fun. Thank you all for making this happen. 😀
Yours truly,
Lashaan & Trang