Hello Our Favorite Space Monkeys

 <3,

         It's that time of the month again! Yep, yep. Another award to add to our collection and this time it's the wonderful Kayla who's tagged us a real long time ago. We're so sorry it took us this long to get this done, but we're eternally grateful that you thought of us when doing this award! 😀 If you aren't already following her blog, you should definitely check it out. Nothing like another bookworm friend, right? And so, here's the Real Neat Blog Award!
---
Rules
1. Thank and link the blogger that nominated you.
2. Answer the 7 questions that the nomination has provided you.
3. Create 7 questions for your nominees.
4. Nominate 7 other bloggers. (Oh my, is that a 7-7-7? Must be your lucky day!)
---
Kayla's questions
1.

 What are you most excited about for the end 

beginning

of the year?
New books, new blogs, new bookworm friends and more reading ! 😀
2.

 What book or book series do you

love

and would

recommend

to others?
George Orwell's 1984 and Animal Farm are definitely must-reads. I haven't really completed too many series for the time being, but Sherlock Holmes' stories are what I'd tell anyone to go read and come back to fanboy/girl together! 😀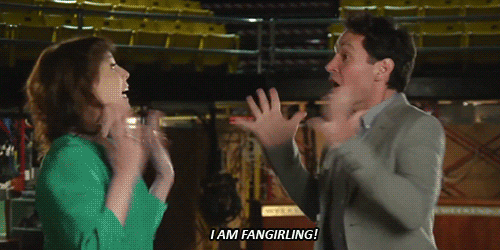 3.

 Who are a few of your

favorite authors

?
It's never easy to mention your favorite author or even your favorite books. But I'll just say that George Orwell, Caleb Carr, Ken Kesey, Sir Conan Arthur Doyle and Fyodor Dostoyevsky are some of my all time favorite. More modern authors that I started to enjoy are Lyndsay Faye and Patrick Ness. Patrick.. freaking.. Ness.
4.

 What is your favorite

television series

at this time?
Breaking Bad. My field of study probably reinforced my love for this show too. The acting is impeccable. The story is genuinely brilliant. The show is a masterpiece.
5.

 If you could spend one day with a

fictional character

, who would it be?
Batman. I know the dude so well, I could definitely bribe him to make me his side-kick. Can I be your Robin for a day, bro?
6.

 Which

cover

of a book (whether you've read it or not) do you absolutely love?
It'be too easy to just say my currently reading is absolutely beautiful (you'll see for yourself in the next question), but there's another book that looks just..so..pretty while still simple. Moriarty by Anthony Horowitz. If you look closely at the red circle, you'll be able to discern one of the famous events from the Sherlock universe. I need to read that book soon… CAN SOMEONE PLEASE LEND ME SOME MORE TIME?
7.

 Are you

currently reading

a book? If so, what is it and how are you feeling about it so far?
Always. Always reading, cause reading is life. I'm currently reading Crime and Punishment by Fyodor Dostoyevsky. This book is absolutely brilliant. Three words. I LOVE IT! ❤ The writing is amazing, the characters are perfect and the plot is intriguing and clever. There's just so much to read, dissect and adore in this book.
---
Bookidote's questions
1. What book would you recommend to anyone and why?
2. Assuming you enjoy movies, what book-to-movie adaptation are you looking forward to or aren't looking forward to?
3. What book would you give a plastic surgery (a new book cover :D)?
4. What movie would you love to see as a book? What author would you want that book to be written by?
5. What books are you looking forward to in 2016?
6. What would you love to improve in your blog?
7. What would be a nice advice for bloggers to grow and interact more with the community?
---
And The Real Neat Blog Award Goes To…
1. Lila @ The Bookkeeper's Secrets
2. Jesalin @ jbelksbooks
3. Analee @ Book Snacks
4. Jenna @ Reading with Jenna
5. Beth @ Betwixt these Pages
6. Aneta @ Sincerely Aneta
7. Amy @ Book Enthral
You know the drill. If you've already done this, don't want to do this or don't have time to do this, no worries! Thank you again Kayla for nominating us, hope you're doing well. 😉 As for our nominees, enjoy the nomination and have an absolutely brilliant day! 😀
Yours truly,
Lashaan

&

Trang ❤