Hello everybody!
There's nothing like a good ol' tag to warm the heart! Or so goes the saying. 😀 Today, we were kindly tagged by The Orang-Utan Librarian to dive into the This-Is-My-Genre-Tell-Me-Yours Book tag! This quick and easy (who am I freaking kidding) tag is all about sharing that one (two? 😀 :D) genre that makes you feel all warm and fuzzy in the inside. So, without wasting any more of your precious time, here we go!
The Rules:
Credit the bad bad  Drew @ TheTattooedBookGeek as the creator of the tag, use the created tag name graphic and link back to his blog.
Answer the questions.
Tag as many people as you want.
No long list, simple really!
1. What's your favourite genre?
Lashaan: The Orang-Utan Librarian did us the courtesy of talking about classics, a "type of genre" that I also would have put at the top of the list ANYDAY, EVERYDAY. However, in order to shed more lights on the unknown or on the frightening genres out there, I'm going to put forth one of my favourite genres today: COMIC BOOKS! This category has been crawling out of the shadows for the past couple of years, and is simply a playground that everyone should give a try some day!
Trang: I CAN'T PICK ONE. I'M GOING TO SAY FANTASY & PSYCHOLOGICAL THRILLERS!!
2. Who's your favourite author from the genre?
Lashaan: Probably one of the hardest questions that can be asked to any book loving human! I'm going to go ahead and name a comic book writer, also a legend—to some extent—that is, Alan Moore!
Trang: JK ROWLING, Leigh Bardugo and Chuck Palahniuk!
3. What is it about the genre that keeps pulling you back?
Lashaan: Just like anything you love, it's the high. The amount of pleasure that you just gain from sharing a moment with the things you love can simply hook you to their presence forever. The medium gives writers a whole new way of telling stories that just captures your attention from one panel to the other. You know what they say about pictures after all. They are worth a thousand words. Imagine the possibilities!
Trang: The magic in Fantasy and it brings me hope to know there are other extraordinary things out there. And Psychological thrillers, it's the opposite. Shows the worst in humans.
4. What's the book that started your love for your favourite genre?
Lashaan: This is not easy since my love for comic books was sort of intermittent. In fact, I started reading comics at a very young age by picking up absolutely anything from unknown authors to Garfield. I then later was drawn into the world of mangas and animes. At that time, I was captivated by Dragon Ball, Detective Conan, Death Note and so many more… It's only a couple years ago that I was truly entranced by the genre and dove into the superhero world of comics. That's where The Killing Joke just amplified my love for the genre by.. I don't know.. a gazillion?
Trang: Fantasy: HARRY POTTER OF COURSE! Psychological thrillers: Invisible Monsters
5. If you had to recommend at least one book from your favourite genre to a non-reader/someone looking to start reading that genre, what book would you choose and why?
Lashaan: This is quite hard. Not every comic book is for everyone. Some of them are really mentally heavy, others are simple but hilarious. I'd always tell people about The Killing Joke since its hard to truly hate it: Batman is awesome, Joker is just as fascinating, it's quite fun and short and, come on, it's Batman. The title I would honestly tell people to try is Watchmen however. It has a lot of text, but the ingeniousness behind it is just mind-blowing. If this newbie is looking for something much lighter, I would truly recommend putting some time into doing some research. There's SO MANY amazing comic books out there that will just about fit to any personality. You just have to dig! 😀
Trang: Definitely Harry Potter and Six of CrowsSix of Crows.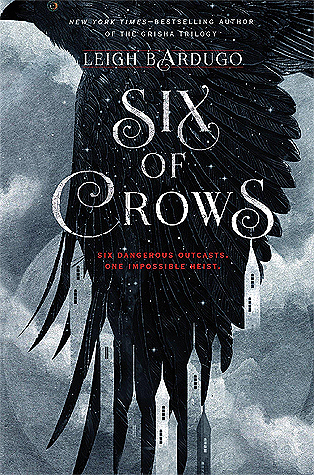 6). Why do you read?
Lashaan: Two reasons. 1) To escape reality. 2) To find the answers to questions I did not know I was looking for.
Trang: BECAUSE WORDS ARE BEAUTIFULL
TAG, YOU'RE IT !
1. Karina @ Karina Pinella
2. Beth @ Reading Every Night
3. Aila @ One Way Or An Author
4. Jasmine @ How Useful It Is
5. Bookstooge @ BookstoogeBookstooge
6. Kat @ Life and Other Disasters
7. Anne @ I've Read This
8. Kim @ By Hook Or By Book
9. J.J. Azar @ J.J. Azar
10. Ellie @ Blogging for Dopamine
---
As always, if you've done this already, don't have time to do it or don't feel like doing it, it's all good. 😉
We'd also like to tag every single person who reads is reading this very sentence!
You don't have to do a post for it, but share your favourite genre in the comment section below! We'd love to see what you love most! 😀
YOURS TRULY,
LASHAAN & TRANG