This is some Inceptionvibe right here right?! She's posting about READING BOOK REVIEWS. YES. Now follow me into my train of thoughts when spotting other book reviews 😉 
*A TITLE THAT CAUGHT MY EYE* It always starts like this right, it's a book that you have heard about or you have read yourself that makes you want to click on that link or even search a review on Goodreads.
2. *LOOKING AT THAT RATING* Okay so this step right here is one of the most important moment in a book review. It's where the love or hate begins. So there are 4 different thoughts that can occur. Depending on the situation, you will react differently right ?
I mean.. how satisfying it is to be able to fangirl about the same book!? Usually, if one person loves something and you missed the reference you start loving the book even more HAH
LOL okay this one is tricky. Because as much as we love to be open minded and polite, we have to admit it hurts when someone bashes your favourite book. HOW CAN YOU.Then you read the review, you start to think oh yeah maybe they have a point.. HUMM.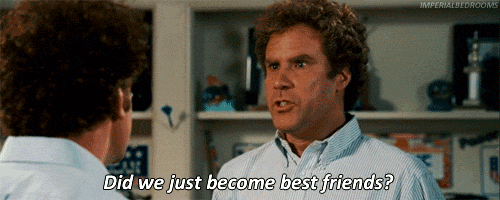 Bonding over hate though!!
3. Then you continue on reading that review and you realize the person writes like frkn gold. And you realize that you don't know anything about words and you should probably not write book reviews anymore.
4. AND ON TOP OF THAT, THEY HAVE AN AMAZING GRAPHIC DESIGN LAYOUT.
5. Then, they sprinkle some humour in their reviews and your life is complete.
Jokes apart, I love reading your reviews! And the reason why I made this post is because I love missing them and reacting to them hahah 😀 I will be back real soon!
What are your thoughts while reading book reviews!? 😀 Hahah I'm having way too much fun while writing this post. Let me know in the comments what do you think about reviews!
See you next time,