I always had issues with Sarah J Mass's writing and this one is no different.
I don't think of myself as a DC comics connoisseur, but given my hobbies for reading comics and especially having an incline for The Gotham Sirens, I can recognize some major characterization of Catwoman. And I must tell you, even as a novice DC comics reader, I see so many wrong interpretations of her in this book.
The story started out great for the first 50 pages I tell myself : hey I'm going to actually enjoy this. HA. HA. Joke's on you Trang.
I'm sorry, darling Catwoman, you didn't deserve this.
WHAT'S WRONG WITH CATWOMAN : SOULSTEALER?
SELINA KYLE AKA CATWOMAN
In the novel, Selina Kyle appears to be taken by the League of Assassins to train and form what she will become the Catwoman.
Okay no. This right here was my main problem already. The core of Selina Kyle's personality is that she learns everything by herself. Independent. Being thrown in a school of Assassins is not what she's about. There are a lot of different interpretation of Selina Kyle childhood but they all have one thing in common: she's a loner and she acquires all her skills via her experiences on the street.
It looks like the author just google some DC universe and decides to mix up Ra's al Gul's name around without realizing what it might do for the DC universe.
THE GOTHAM SIRENS DYNAMIC
Harley Quinn and Poison Ivy team-up with Catwoman in the novel but it looks like a big joke. For one, Catwoman is a newbie in town and she already decides that she's the boss of the three giving them orders and all. Like who asked you? You're talking to two powerful women who obviously were the villains in Gotham City while you disappear randomly with The League of Assassins.
Also, the fact that the author depicts Poison Ivy as weaker than Catwoman bugged me. In one scene, they are fighting for a painting and in the end Catwoman has the upper hand. EXCUSE-ME that would never happen. Poison Ivy have, so many times, defied Catwoman and even tie her up. She's a deadly walking creature. What do you think some claws and whip can do to her?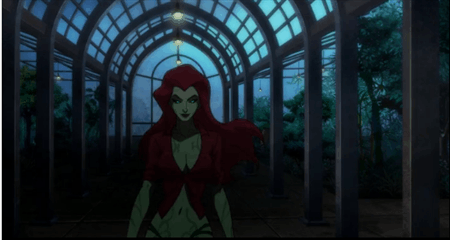 THE TRYING-TOO-HARD SYNDROME
I feel like Sarah J Mass tried too hard to go with the trends and be diverse. I get it. It's important. But sometimes if you're not comfortable writing about it, maybe you should stick to what you know and not write about things you have no idea of. Many times she tries to make us realize the Batwing is black and that he feels bad for the young black boys who got caught just because of their colours. The phrasing is just too awkward and instead of making me feeling bad for the characters, I just felt bad for the author.
Right after that passage, she goes on and on describing how white Selina Kyle is : waxing her White Legs, brushing her white hair (yeah her alter ego is blonde in the novel) with a composed white body posture.. I think it's the wrong way to write about diverse cast ? Just a thought.
It's not all bad right..?
I must admit, there are some moments I enjoy in this book. The action scenes are great mixing the gymnastics style with Selina Kyle fighting. If you look it as a simple YA story, it's great.
So I think the best way to enjoy this book is :
You just have to forget about DC comics when you are reading it. It's a whole new story with villains and heroes.
TITLE:

CATWOMAN: SOULSTEALER


SERIES: DC ICONS #3
AUTHOR(S): SARAH J. MASS
PUBLISHER: Random House Books for Young Readers
FORMAT: Hardcover
RELEASE DATE: August 7th, 2018
PAGES: 304
GENRE(S): YA
My other DC Icons review: 
LITTLE GIFT AT THE END OF THE BOOK

Thank you to Penguin Random House for sending me a copy!