Who watched Sabrina The Teenage Witch when they were young? *raises hand* That show was so funny and the 2000s teenager in me loved every single bit of it. When Netflix announced they will release a TV show based on the comics, I was all over the moon. But not any edition of the comics, the gory and scary one.

Like any novels, the graphics novel explores a lot of details about Sabrina's source of powers but more importantly, it explores the traits and background of the side characters.
The artwork allows us to really feel the spookiness and enchanting vibes of witchcraft. It's raw and sharp while playing with colours from the warm colours spectrum which are linked to visual stimulation and Hell Devilish themes.
I feel like Sabrina in the comics was so mature..? I wouldn't believe she's a teenager to be honest. Anything from her replies and her actions to facial expressions look mature to me and that's a good thing hahah.
Overall, I would rate this graphic novel a 4/5 regarding writing, storyline and character development. Roberto Aguirre-Sacasa brought the witches to life in such a horrifying, unholy and dark way that you can't help but admire how he does it so well.
Menacing and emotional, prepare yourself to go beyond the typical teenage drama vibe and enter the Witchcraft realm where macabre horrors paddle the pages.
Thank you to Penguin Random House and Archie Comics for this copy 🙂

I didn't expect to love it… But I simply became obsessed with the show. For starters, the cast is astonishing! Sally Draper becomes a Witch SAY WHAT 🤣. Aunt Zelda is Eowyn from Lord Of The Rings. Aunt Hilda is just the sweetest actress ever and Ambrose, the nonchalant cousin. The perfect combination or an entertaining witch family : the Spellmans.
I was also impressed with all the witchcraft, devil and biblical references here and there. Satanism vs Catholicism and when you go through every single episode you realize that.. The main message of this TV show is that they see the Church as the savior of the lost souls and how Satan is bad. Okay DUH TRANG, what's new. But no, believe me. When you see the first episodes you'll think that they praise this Satanic cult and culture and a lot of people seem to jump to that conclusion. However, I insist the real message is totally the opposite.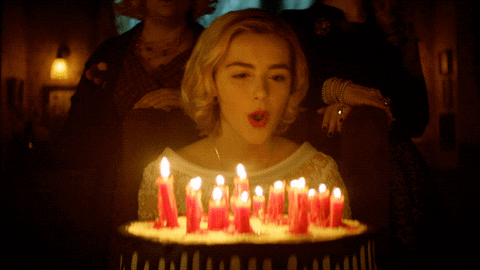 I think the Weird Sisters are a great add to the characters list. They personify the Mean Girls clique until you discover that Sabrina may be the most twisted of everyone LOL.
Did you watch the show ? Did you read the comics? What do you think about it?