Bookidote has been filled with DC comics these last few days so I can't help but write something about the Marvel Universe. Because I am for one, #teammarvel all the way.  Looking back, 2018 has been a big year for Marvel.
STAN LEE
The biggest blow for all the Marvel fans in the world was the death of Stan Lee back in November. I wanted to dedicate a whole post to him but I found myself short on words. Mostly what I wanted to say is, he created a whole world of superheroes that slowly becomes one of the most important aspects in my life. X-Men are the first superheroes that I encountered and then, it was Spiderman, The Fantastic Four, Daredevil, etc. I will always remember the feeling of picking up my first comic issue ever.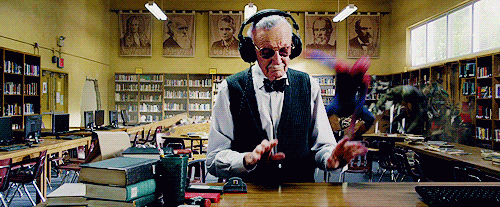 I grew up with mangas in Vietnam, so to switch to the comics genre was so weird to me. The art is totally different. But the most important thing is, the themes, the values and the heroes are completely opposite. In a way, I was more into X-Men than any other superheroes because I love that group and unison feeling, the debate of the oppressed group, the mutants vs the world. Dreams and superheroes are a beautiful gifts to an 8-years-old me. Thank you Stan Lee for that. 
Shoutout to Stan Lee official website for linking one of my Captain America's post to their links 🙂 I squealed like crazy ahahh for that small detail. 
MARVEL MOVIES THIS YEAR
2018: The year where Marvel released the most movies, starting with Black Panther, then the pain from Avengers Infinity War to the comedy vibe of Ant-Man, the anti-hero of Venom and Deadpool 2 and the animation of Spider-Man Spiderverse.
My top 3 : Black Panther, Venom and Spider-Man Spiderverse. 
MOST ANTICIPATED MARVEL MOVIES IN 2019
Two trailers released these last few days : Captain Marvel and Avengers 4 ! Can't say how much I'm excited for both movies 😀 What are your thoughts about the trailers or even Marvel  MCU in general? 🙂