It's an exciting week for movie releases with Aquaman, Mary Poppins and Bumblee battle off the charts.
However, I want to review two of the movies from the superheroes franchise. Let's do a little Marvel VS DC kind of post, shall we? 😉
AQUAMAN
I've been so excited about this movie because Atlantis is one of my FAVOURITE tale and world building ever. I mean, a city in the sea?! GIVE ME A TOUR PLEASE. And I think, for that side of the movie, THEY NAILED IT. The visuals of Atlantis ARE BEAUTIFUL AND GORGEOUS. It is magical. However, don't expect the typical society with streets and buildings.. they're living underwater okay.
One of my favourite scene is the chasing scene in Sicily, the angles between Mera and Arthur were really fun to watch. You can see they played a lot with creative long takes and switching from one perspective to another. It's full of fun action scenes. And a woman kicking ass like Mera? MORE PLEASE. 
The only disappointment with this movie is .. IT'S TOO CHEESY. I'm sorry but as a 24 years old girl, too much cheesiness is just a big turn off LOL I feel like everything was laying out since the beginning, I knew exactly where the movie was going. I had to laugh a few times not because it's funny but how ridiculous and oblivious some scenes are.
Again, I appreciate the efforts DC is doing. They definitely learned from their dark themes and now following their nemesis Marvel, is switching the script to be a lighter, funnier franchise.
Do you think it's a good thing? Does DC Comics embracing cheesiness is a must for the future of DC Movies? 
RATING: 3,5/5
SPIDER-MAN : INTO THE SPIDERVERSE
This animated movie, I honestly didn't expect to like it, BUT OMG it was amazing! The feelings and emotions are so real, I even cried watching it. I love how they featured the Spiderverse and again the animation and visuals are are stunning. The concept of technologies mixing with the traditional comics templates is a genius move. I don't want to spoil about the concept but you are going to see a slightly different medium than anything you've seen about Spiderman before.
The more I watch the visuals, the more I realize how they need this story to be in the animation form. The amount of details and movements present in this movie would be impossible to reproduce in a live-action movie even with super good CGI.
Also, the soundtrack is GOLD. If I had to compare the soundtrack with Spiderman Spiderverse and Aquaman, Spiderman topped it off. From the villain music to the transitions, the instrumentals were so authentic and originals.
RATING: 4,5/5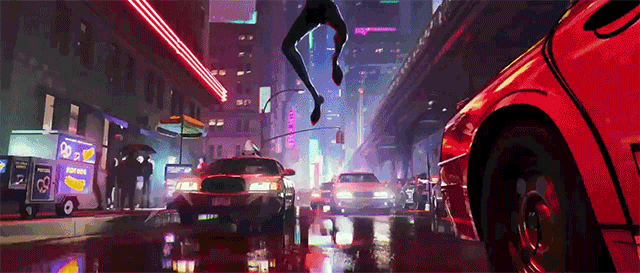 A big thank you to DC Comics and Marvel for giving me the chance to watch these two premieres ❤