How many people react negatively when you tell them you're a blogger? As if we are a total different part of the world. Because bloggers put their efforts to create content online, they are exposing themselves to be criticized, compared and more often, judged by random strangers.
Blogging has become one of the most important ways of communicating, sharing and spreading information. But what comes with blogging is the power to blend information and artistry. Artistry can include writers to photographers, recipes, videos, etc.
I think the main myth that everyone believes is that they think blogging is the main stream of income for bloggers. For some may be true but for most people it is not. A lot of bloggers that I know of have different jobs and still go to school, so they would go normally about their days and come back home and blog about their favourite subject. For example, blogging is my go-to thing to do when I come back from work.
The nice thing about being a blogger is that you just need a Wi-Fi connection and a tool to write your posts, post your content and boum you have it. When coffee shops used to be open, I would go to my favourite spots and sit there with my laptop to do some study and to blog right after.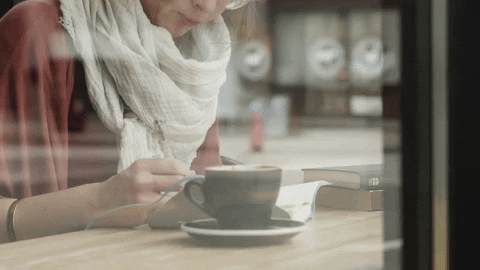 You have a subject, hobby in kind that you want to document or share with the world? You start a blog. The first phase of setting up your blog is to decide on which platform you want it to be, I wrote a post about it here. The second phase is the fun phase in my opinion, is where you create the content and you let loose of your creativity. For me, writing my first posts on Bookidote was all about that: how would I design the post, what kind of graphics should I post and what kind of pictures should I create ? The third phase is the engagement, and probably the most exhausting part of blogging is to keep track of your community by interacting with your followers. The final phase is the fourth phase where you slowly turn your blogging into habits. I have 3 different blogs because there are 3 different hobbies that I am passionate about and I just use the habits of creating content as my artistic outlet.
How about you fellow bloggers? What are your day to day of blogging and what tips would you give to new bloggers? 🙂


All the gifs (c) from tumblr and the head cover image as well.