Don't try to understand it, feel it.
The most accurate quote from the movie yet represents the whole movie. When the credits were done my reaction was:
Tenet in short, is a strong idea that works if you don't think too hard about it, yet needs you to think hard about it to understand it. Spectacle and soundscape are both grandiose, as Nolan is known to do. This, complemented with great performances by the main cast (especially Robert Pattison, stealing every scene he's in and John David Washington making the most badass Protagonist), makes for a great summer blockbuster. From a sci-fi point of view however, this is where things go downhill. Time travel is hard keep coherent, and making a movie about local causal disturbances just raises too many questions about the internal logic of the film.
However, as far as orignal ideas, Nolan definitely delivers. Time travelling is a genre ripe with reinterpretation. The novelty of having it being expressed and discovered, not by people voyaging, but by observable effects. The first clue was the inverted bullets, where they would behave as if moving backwards with reverse intention. As if the future is sending them a message through time.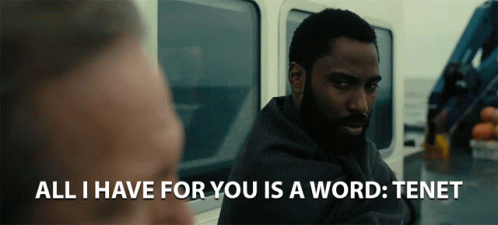 On top of this, the movie suffers from the classic issue of having the main mystery at the beginning of the story be known and accepted by every character towards the end (we start with a keyword "Tenet" and finish with an army of followers).
RATING : 8/10
This was also our first movie theatre experience in Montreal since the lockdown of March, it was very well secured, everybody wore a mask and disinfected their hands, even to enter through the theatre doors the 2m social distancing was respected and the capacity of the room was significantly reduced by 50%. Side note: I recommend you book your tickets online in advance.
-TRANG